Sociology of Information Disorder and Fake News
$250.00
Credits: 2.25 CEUs or 22.5 PDHs
In this course we will use a sociological lens to examine problems in present-day information systems that impede on our collective ability to be an informed public body. We will attempt to understand what we determine to be the truth through investigation of the relationship between information, democracy, and capitalism. This course will use a holistic interpretation of fake news as various types of problematic content and rhetoric and place it within the broader conceptual framework of information disorder. Finally, we will consider how these issues contribute to a third wave of information literacy instruction and the practice of critical librarianship. Learning objectives: Articulate a nuanced understanding of fake news and information disorder; Analyze the role of information and information technology in a democratic society; Reflect on how personal information behaviors are shaped by social contexts; Explore potential avenues to integrating third wave information literacy concepts into library instruction and practice
Course Information
Credits
2.25 CEUs or 22.5 PDHs
Course Description
In this course we will use a sociological lens to examine problems in present-day information systems that impede on our collective ability to be an informed public body. We will attempt to understand what we determine to be the truth through investigation of the relationship between information, democracy, and capitalism. This course will use a holistic interpretation of fake news as various types of problematic content and rhetoric and place it within the broader conceptual framework of information disorder. Finally, we will consider how these issues contribute to a third wave of information literacy instruction and the practice of critical librarianship.
Learning objectives:
Articulate a nuanced understanding of fake news and information disorder
Analyze the role of information and information technology in a democratic society
Reflect on how personal information behaviors are shaped by social contexts
Explore potential avenues to integrating third wave information literacy concepts into library instruction and practice
Preliminary Course Outline:
Week 1: Introduction to Key Course Concepts

Information disorder and fake news
Third wave information literacy
Relationship between information, democracy, and capitalism

Week 2: Information Creators

Bias and propaganda in the media
Journalism and democracy

Week 3: Information Interpreters

Impact of the social environment on shaping personal beliefs
Establishing credibility

Week 4: Information Landscape

Algorithms and surveillance
Information overload and psychopolitics

Week 5: Third Wave Information Literacy

Impact on student learning needs
Review existing curriculums, lesson plans, and tools

Week 6: Integration into Instruction and Practice

Personal reflection
Update a lesson plan or syllabus
Hailey Mooney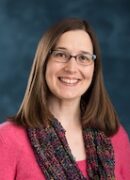 Hailey Mooney has over a decade of experience working in academic libraries with roles in reference, data services, and as a subject specialist in the social sciences. She is currently the Psychology & Sociology Librarian at the University of Michigan. Recently, Hailey also began work as an occasional lecturer with the Department of Sociology, where she developed and teaches an undergraduate course on the Sociology of Fake News. Her scholarly work is currently focused on issues in fake news and information literacy, and previously concentrated on data-related scholarly communication practices. Hailey has a Master of Library and Information Science from Wayne State University and a Bachelor of Arts in Sociology from the University of Michigan.
Special Session
Please contact us to arrange a special session of this class for a group of seven or more, with a negotiable discount, or to be notified when it is next scheduled.